Join us and a dynamic group of ladies for a week of learning, living and experiencing Jerusalem at its finest.  Attend classes at the Aish World Center, steps away from the Kotel. Learn with the finest teachers the Torah world has to offer! For tentative schedule, click here.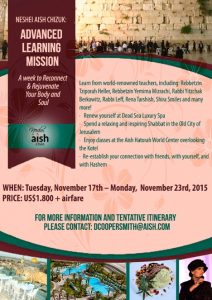 $1800 per person* + airfare
Add an additional $460 for single room occupancy.
Payable by Check, PayPal or Credit Card
*All prices are based on double room occupancy and for a minimum of 20 participants.  For 15-19 participants an additional $200 will be due by September 28, 2015.
For additional information, please contact Dina Coopersmith: dcoopersmith@aish.com
Tentative Schedule
Dates: 17—23 November, 2015
| Date & Time | Activity | Speaker |
| --- | --- | --- |
| Tuesday, Nov. 17th | | |
| 7:00am | Arrive @ Ben-Gurion airport | |
| 9:00am | Bus departs to Old City | |
| 10:00am | Aish World Center / Western Wall experience | |
| 10:45am | Welcome —Connecting to Hashem in a fast-paced world | R. Eric Coopersmith |
| 12:00pm | "What do We Want Most in Life?" | Rabbi Eitiel Goldvicht |
| 1:00pm | Lunch @ Aish World Center | |
| 2:00pm | Getting to Know You | Dini Coopersmith |
| 3:45 | Seeing Hashem in the Picture | R. Nosson Weisz |
| 5:00pm | Return to Prima Kings Hotel- Check in | |
| | Free for dinner | |
| Wednesday, Nov. 18th | | |
| 7:00 — 9:00am | Breakfast | |
| 9:00am | Check out of hotel, put bags in storage, small bag on bus | |
| 9:30am | Bus departs to Old City | |
| 10:15am | The Power of Prayer | R. Nosson Weisz |
| 11:30am | What is Our Role in the End of Days? | R. Motty Berger |
| 12:30pm | | |
| | Bus departs to Dead Sea | |
| 2:30pm | Check in — Herod's Dead Sea hotel | |
| 3:30-5:30 | Spa treatments (pre-book through Israel Connection) – (optional) | |
| 6:45pm | Dinner @ Café Café | |
| 8:00pm | Everything you Wanted to Know about Intimacy (but were afraid to ask:) | Meira Svirsky |
| 9:00pm optional | The Art of Intimacy 2 | Meira Svirsky |
| 9:00pm —12:00am | Private Spa @ hotel | |
| | | |
| Thursday, Nov. 19th | | |
| 7:00 — 9:30am 8-9 (optional pilates) | Breakfast and check out | |
| 9:30am | Break out session: Raising Teens in a confusing world Zumba! | Meira Svirsky Miriam Grosz |
| 10:30am | "The ABC's of Emunah" part 1 | Mrs. Dini Coopersmith |
| 11:30am | Check out of hotel, put bags on bus | |
| 12:30pm | Lunch @ Café Café | |
| 1:45pm | Travel to Jerusalem | |
| 4:00pm | Arrive @ Aish World Center — Mincha / visit the Kotel | |
| 5:00pm | The Sword of Yishmael- A Message for our Times @ Aish World Center | Mrs. Rena Tarshish |
| 6:15pm | Return to Prima Kings Hotel / check in | |
| | Free evening | |
| | | |
| Friday, Nov. 20th | | |
| 6:30am | Early Breakfast available | |
| 8:30am | Bus departs to Kever Rachel (accompanied by an armed guard) | RebbetzinTziporah Heller |
| 10:45am | "In the Footsteps of Our Matriarchs" @ Prima Kings Hotel | Rebbetzin Tziporah Heller |
| 12:00am | Break for lunch and prep for Shabbat | |
| 3:45pm | Walk / Ride to Rova | |
| 4:15pm | Candle-lighting | |
| | Davening @ Kotel | |
| 6:30pm | Dinner @ Aish World Center | |
| 8:30pm | "Keeping the Spark in Marriage" @ Aish | Jamie & Ilana Cowland |
| 10:00pm | Return to hotel | |
| | | |
| Shabbos, Nov. 21st | | |
| 7:00am | Breakfast | |
| | Davening Options: Kotel, Great Synagogue or Prima Kings Hotel | |
| 10:00am | Kiddush/ 2nd Seuda | |
| 11:30am | "The Power of Shabbat" | Ilana Cowland |
| 12:30pm | The ABC's of Emunah – Part 2 | Mrs. Dina Coopersmith |
| 1:30pm | Lunch/ 3rd Seuda @ Prima Kings Hotel | |
| 2:45 — 3:45pm 4:00 Optional | "Secrets of a peaceful home" Walking Tour of Old City with guide and mincha at the Kotel |   Ilana Cowland |
| 5:28pm | Havdala | |
| 6:30pm | Zumba! (optional) | |
| 8:00pm | Finding the Silver Lining in Cloudy Times @ Kings hotel | Rabbanit Yemima Mizrachi |
| | | |
| Sunday, Nov. 22nd | | |
| 7:00am | Breakfast | |
| 9:00am | Walk / Ride to Old City | |
| 9:45am |                                        Free Will: Do I Have a Choice? | R. Moshe Zeldman |
| 11:00am | How can I Really make a Difference? | R. Nechemia Coopersmith |
| 12:30pm | Lunch @ Aish World Center | |
| | | |
| 2:00pm | Successfully Riding the Ups and Downs of Life | Mrs. Chava Koenig |
| 3:00pm | Fate, Mazal, G-d's Decrees and I | Mrs. Shira Smiles |
| 4:00pm | Break for refreshments/ visit the Kotel | |
| 5:00pm | Living with Clarity and Happiness | R. Yom Tov Glaser |
| | Free Evening | |
| Monday, Nov. 23rd | | |
| 7:00 — 8:45am | Breakfast | |
| 8:45am | Living with Serenity in Turbulent Times @ hotel | Mrs. Dina Schoonmaker |
| 10:00am | Check out of hotel, pack bus and leave to Old City | |
| 11:00am | Self Esteem, Modesty and Dignity | Mrs. Chana Kalsmith |
| 12:00pm | Tunnel Tour | |
| 1:30pm | Free time for lunch & personal shopping at Mamilla and the Rova | |
| 4:00pm | Taking Hashem Home | Rabbi Moshe Zeldman |
| 5:00pm | Leave to Picolino restaurant for Final Banquet Dinner Reflections, Evaluations | |
| 8:00pm | Bus departs to airport – L'hitraot! | |